With Robertson's you will not be just an account number. You will learn our names and we will learn yours. We would like the opportunity to show you how we have been able to continue this business for so long. We are sure that you will agree that our service is superior.
We furnish and install oil and gas-fired furnaces and boilers as well as gas, oil, and electric water heaters and central air conditioning systems. During the cooling season, we provide service for central air conditioning. Should your family suffer from allergies, an air cleaner connected to your heating (and cooling) unit may provide some relief.
In addition, many customers have reported that the dust in their homes has been significantly reduced by installing an air cleaner. We offer different models for your comfort. For some people, dry air is not only uncomfortable in the winter, it may also be a health issue. We can install a humidifier directly on your heating system to provide welcome relief. (An added bonus – it may cut down on the static electricity in your home as well.)
We deliver oil on an automatic delivery basis or on a call basis. We offer budget plans for oil and service contracts on oil-fired heating systems. We accept all major credit cards. Should you, a friend, or family member have any questions regarding the services we provide, please contact our office. Estimates are always provided at no charge.
Should you have any questions, please call Robin or Lisa in the office at 610-485-1691.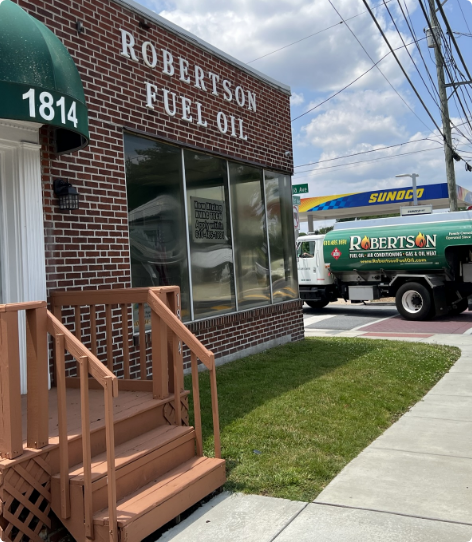 OUR STORY
Benjamin Ashton Robertson, Sr., started the business in 1929. As time passed, his two sons and one son-in-law joined him in expanding the company to B.A. Robertson & Sons. The business became incorporated in 1984, hence the current name.
HOURS
Office hours: Monday through Friday 8:00 to 4:30
Answering service: 24/7
EMERGENCIES
We have one of our service technicians "on-call" for emergencies during evening and weekend hours.